French Toast stuffed with Nutella.
Family friendly brunch.
Drip coffee, orange juice, and milk available.
And an excellent Beermosa served with fresh fruit.
Other menu options vary.
PLACE ORDER AT THE BAR OR PATIO WINDOW WHEN READY. THANKS.
Please notify us of any food allergies.
Warning: Consuming raw or undercooked meats, poultry, seafood, or eggs may increase your risk of foodborne illness.
Menu items may contain or come into contact with wheat, eggs, peanuts, shellfish, tree nuts, or milk.
Plain, Blueberry, Fruity Pebble, Vegan.
BRUNCH AND BEERS * EVERY SUNDAY * 11 AM - 1 PM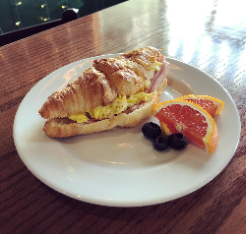 Beer brewed oatmeal with brown sugar and cinnamon. Add fruit topping for $1.00 extra
Boca Crumble Gravy made with oatmilk over
vegan biscuits.
Toasted croissant stuffed with ham, egg, and pub cheese.
2 Biscuits smothered in sausage gravy.